The R Coronae Australis region imaged with the Wide Field Imager at La Silla*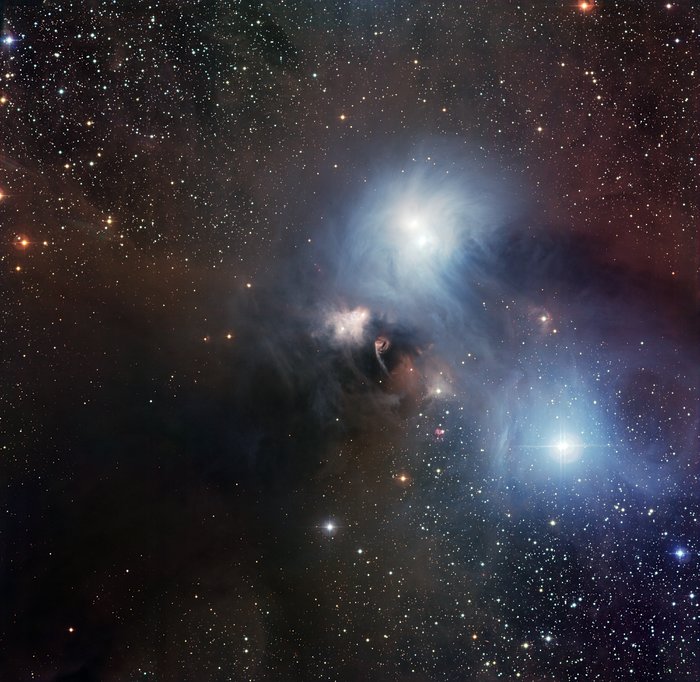 The nearby star-forming region around the star R Coronae Australis imaged by the Wide Field Imager (WFI) on the MPG/ESO 2.2-metre telescope at ESO's La Silla Observatory in Chile. This picture, which covers a field of 33.7 x 31.9 arcminutes (about the diameter of the full Moon), is a combination of twelve CCD frames, 67 megapixels each, taken through B, V and R filters, with four exposures of five minutes each.
This image is available as a mounted image in the ESOshop.
#L
Credit:
About the Image
| | |
| --- | --- |
| Id: | eso1027a |
| Type: | Observation |
| Release date: | 30 June 2010, 12:00 |
| Related releases: | eso1027 |
| Related science announcements: | sciann13047 |
| Size: | 8795 x 8573 px |
---
About the Object
Name:
R Coronae Australis
Type:
Milky Way : Nebula : Appearance : Reflection
Milky Way : Nebula : Appearance : Emission : H II Region
Distance:
400 light years

Constellation:
Corona Australis
Category:
Nebulae

---
Mounted Image
Buy in shop
Image Formats
---
Zoomable
---
Wallpapers
---
Coordinates
| | |
| --- | --- |
| Position (RA): | 19 1 53.72 |
| Position (Dec): | -36&deg 57' 9.47" |
| Field of view: | 34.87 x 33.99 arcminutes |
| Orientation: | North is 0.0° left of vertical |