A Messy Nursery of Stars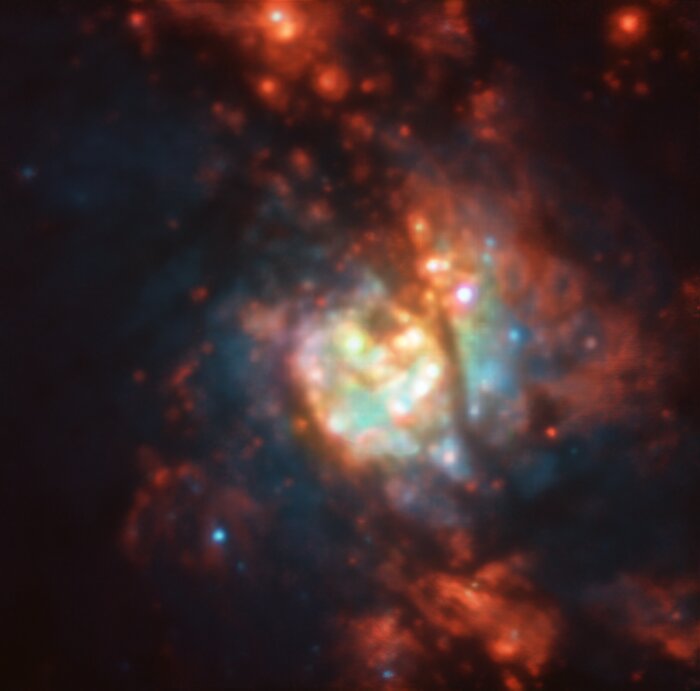 The thousands of newly formed stars at the heart of NGC 5236 were imaged with the MUSE instrument, attached to ESO's Very Large Telescope at Paranal Observatory in Chile. Referred to mostly as the Southern Pinwheel galaxy, NGC 5236 receives its common name from its beautiful spiral arm configuration and its location in a Southern Hemisphere constellation: Hydra. Bright regions of star formation light up this galaxy, including the region imaged here, located within the galaxy's centre. 
With the right conditions, and commonly within the spiral arms of a galaxy, cold molecular clouds mostly composed of hydrogen gas can collapse and form into brand new stars. In larger clouds, the burning of a new star can create a domino effect, initiating the collapse of the surrounding gas into even more stars. Within a galaxy's centre however, other processes are at play. The supermassive black hole at the centre of NGC 5236 funnels vast channels of material and matter towards itself; at the same time, it erratically spits matter and large quantities of energy outwards, making the huge amount of star formation around this galaxy's central region extra messy.
Credit:
About the Image
| | |
| --- | --- |
| Id: | potw2047a |
| Type: | Observation |
| Release date: | 23 November 2020, 06:00 |
| Size: | 641 x 633 px |
---
About the Object
---
Image Formats
Fullsize Original
Large JPEG
81.0 KB
Screensize JPEG
103.2 KB
---
Zoomable
---
Wallpapers
---
Coordinates
| | |
| --- | --- |
| Position (RA): | 13 37 0.98 |
| Position (Dec): | -29&deg 51' 54.98" |
| Field of view: | 1.07 x 1.06 arcminutes |
| Orientation: | North is 0.0° right of vertical |