A view of the M87 supermassive black hole in polarised light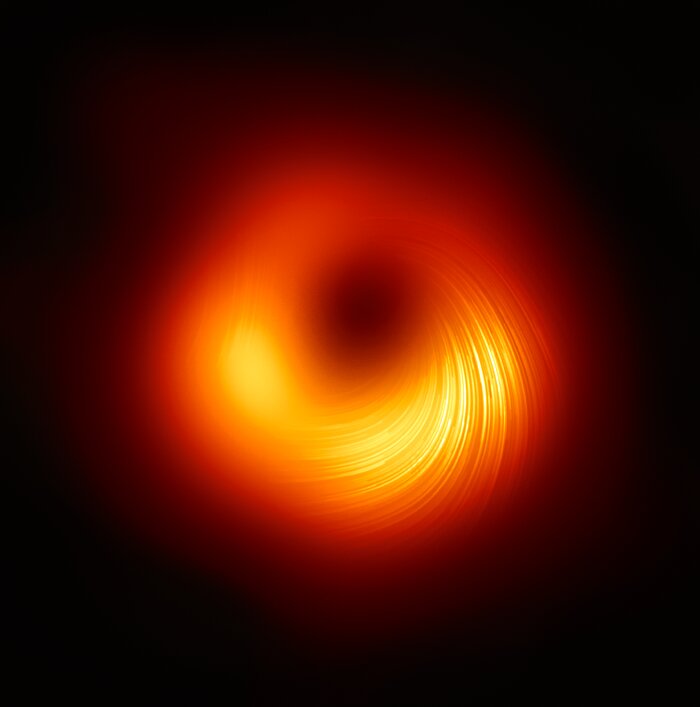 The Event Horizon Telescope (EHT) collaboration, who produced the first ever image of a black hole released in 2019, has today a new view of the massive object at the centre of the Messier 87 (M87) galaxy: how it looks in polarised light. This is the first time astronomers have been able to measure polarisation, a signature of magnetic fields, this close to the edge of a black hole. 
This image shows the polarised view of the black hole in M87. The lines mark the orientation of polarisation, which is related to the magnetic field around the shadow of the black hole.
Credit:
About the Image
| | |
| --- | --- |
| Id: | eso2105a |
| Type: | Observation |
| Release date: | 24 March 2021, 15:00 |
| Related releases: | eso2105 |
| Size: | 3414 x 3447 px |
---
About the Object
---
Image Formats
Fullsize Original
Large JPEG
823.6 KB
Screensize JPEG
80.7 KB
---
Zoomable
---
Wallpapers
---
Coordinates
| | |
| --- | --- |
| Position (RA): | 12 30 49.42 |
| Position (Dec): | 12&deg 23' 28.04" |
| Field of view: | 0.00 x 0.00 arcminutes |
| Orientation: | North is 0.0° left of vertical |