Image of Betelgeuse's surface taken in January 2019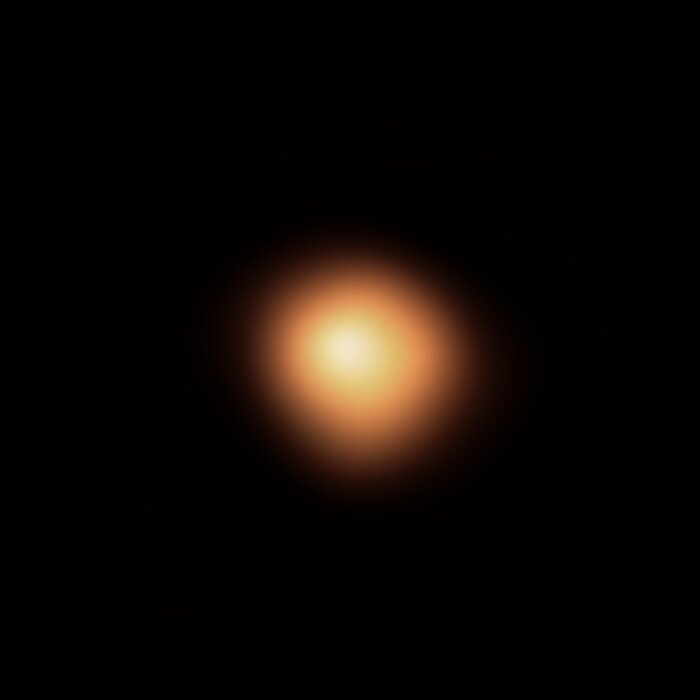 When the red supergiant star Betelgeuse became visibly darker in late 2019 and early 2020, astronomers were puzzled. This image of the star was taken before Betelgeuse started to fade, using the SPHERE instrument on ESO's Very Large Telescope. When compared with later images, taken in December 2019, January 2020 and March 2020, it is clear that the southern region of the star dimmed significantly, before beginning to its normal brightness.
Astronomers now know that this unprecedented dimming was the result of a cloud of dust that emerged from the star.
An earlier version of this image was released in early 2020.
Credit:
About the Image
| | |
| --- | --- |
| Id: | eso2109f |
| Type: | Observation |
| Release date: | 16 June 2021, 17:00 |
| Related releases: | eso2109 |
| Size: | 798 x 798 px |
---
About the Object
| | |
| --- | --- |
| Name: | Betelgeuse |
| Type: | Milky Way : Star : Evolutionary Stage : Red Supergiant |
| Constellation: | Orion |
| Category: | Stars |
---
Image Formats
Fullsize Original
Large JPEG
38.3 KB
Screensize JPEG
41.1 KB
---
Coordinates
| | |
| --- | --- |
| Position (RA): | 5 55 10.31 |
| Position (Dec): | 7&deg 24' 25.44" |
| Field of view: | 0.00 x 0.00 arcminutes |
| Orientation: | North is -0.0° left of vertical |