German Involvement with the European Southern Observatory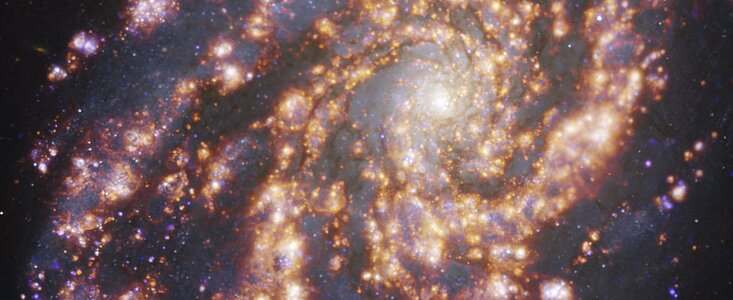 This image of NGC 4254 is a combination of observations conducted at different wavelengths of light to map stellar populations and warm gas. The golden glow marks the presence of newly formed stars. Credit: ESO/PHANGS
Germany is a founding member of ESO, signing the ESO convention on 5 October 1962 and officially becoming a Member State on 17 January 1964. As a founding member of ESO, host of the ESO Headquarters in Garching near Munich, and the largest contributor to ESO's budget, Germany plays an especially strong role in the organisation and has contributed to many ESO projects in key ways. 
Germany currently contributes 22.44% of ESO's revenue (2021 contribution), worth 43 091 000 EUR. 
As of mid 2022, there are 159 German employees at ESO, 137 in Germany and 22 in Chile. Furthermore, ESO has awarded 33 studentships, 65 fellowships and 14 internships to German nationals since 2004. 
Germany is represented in the various ESO governing and advisory bodies by astronomers and policy experts; the current German representatives of ESO's various committees with national representation can be found here. The current President of the ESO Council, Linda Tacconi, is a senior astronomer at the Max Planck Institute for Extraterrestrial Physics (MPE) in Garching, Germany. 
The ESO Science Outreach Network (ESON) includes German representatives who act as ESO's media and outreach local contacts. 
Here follows some information about Germany's involvement with ESO. 
Discoveries by Germany-based astronomers using ESO telescopes 
German researchers and those based at German institutions have been involved in important discoveries using ESO facilities, including many of the ESO top 10 discoveries. Key or recent scientific discoveries include 
German involvement in ESO instruments and telescopes at ESO sites 
Many of the instruments for telescopes at ESO's facilities were built by consortia led by German institutions, and Germany also played key roles in some of the telescopes at ESO's observatories. This includes 
German involvement in ELT instruments 
Germany is part of the development of many of the instruments for ESO's upcoming Extremely Large Telescope (ELT), namely 
German industry and technology contributions to ESO 
German companies have been crucial partners of ESO over the years, with German industry making, and continuing to make, significant contributions to ESO's projects. Some of the most valuable contracts awarded to German companies for technology development include 
Toptica Photonics AG being awarded important contracts related to the manufacturing of the laser on the 4 Laser Guide Star Facility on the VLT.  
The development of the 23 kV power system at the ALMA site made by a consortium involving German companies. 
Scheuerle Fahrzeugfabrik GmbH building the ALMA transporters. 
LOGWIN Air + Ocean being awarded multiple contracts related to ALMA operations, general activities and the Paranal instrumentation programme.  
ESO's contracts with the German industry include expenditure related to the ESO Headquarters. A significant example is the construction of the ESO Headquarters extension (BAM Deutschland AG, with other contracts related to the extension placed with Auer+Weber+Assoziierte GmbH), inaugurated in 2012. Other examples include renewable energy and power supply (Stadtwerke Augsburg Energie GmbH) and heating, cooling, ventilation and air conditioning (Energie-Wende-Garching GmbH & Co. KG) contracts. ESO has also placed multiple contracts with Terma GmbH, Comarch Software und Berating AG and amball business-software (among others) for IT services.  
German industry contributions to the ELT 
German companies are important industrial partners in ESO's upcoming Extremely Large Telescope. Some of the most important contracts awarded to the German industry include 
With SCHOTT AG for the production of ELT mirror blanks (multiple contracts). SCHOTT has also produced mirror blanks for the VLT. 
Multiple contracts placed with FAMES EWIV for the supply of edge sensors for the segments of the ELT primary mirror.
Physik Instrumente (PI) GmbH & Co.KG producing position actuators for the segments of the ELT primary mirror.
Hexagon Metrology GmbH beingawarded a contract to manufacture laser trackers for the ELT.