Announcement
Thank You, 100 000 Facebook Friends!
10 February 2015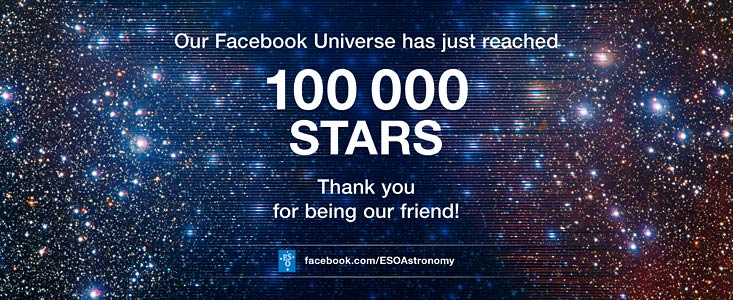 ESO would like to extend a warm welcome to our 100 000th Facebook friend and a thank you to everyone who has become our friend on Facebook and, in doing so, helped to spread an interest in astronomy, space, and what everyone at ESO is working hard to achieve.
Every like, share and mention goes a little way towards helping more people share in the wonders of the Universe, and we are thankful to all those who have participated for their support in helping ESO to reach more people than ever before.
Links
Contacts
Oana Sandu
Community Coordinator
ESO education and Public Outreach Department
Tel: +49 89 320 069 65
Email: osandu@partner.eso.org