Fisheye on the galaxy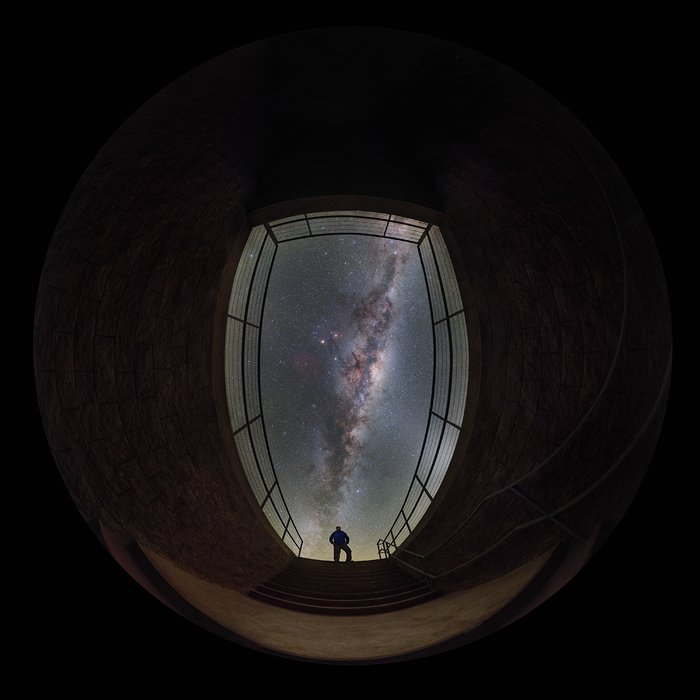 How does a fish see the Milky Way? We can get a pretty good idea thanks to this picture of our galaxy, taken with a fisheye lens from the entrance of the Paranal Residencia at the Paranal Observatory's Base Camp, located 3 km away from ESO's Very Large Telescope (VLT).   
The Paranal Residencia is a true "oasis for astronomers". Located in the Atacama desert, one of the driest regions on our planet, it is a comfortable and modern building where ESO staff and visitors can rest during their long shifts and withstand the extreme local climatic conditions. The Residencia is a subterranean construction with a 35-metre wide glass-covered dome, which brings in natural light, and a swimming pool, which helps the staff to relax and also contributes to the building's humidification system. The building's facade opens towards the Pacific Ocean, just 12 kilometres away.  
From its southern latitude, Paranal offers a unique view of the Milky Way. It is estimated that the Milky Way contains a few hundred billions of stars. Most of them lie on the galactic plane, with their light giving rise to the luminous band stretching across the night sky which we can admire from Earth.
Links
Credit: