Announcement
ESO Calendar 2018 Now Available
1 August 2017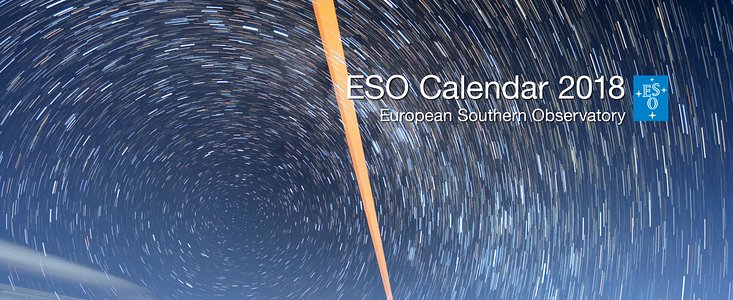 One of our most popular products, the ESO Calendar, is now available in its 2018 incarnation, and can be ordered from the ESO online shop.
The calendar's cover features a spectacular long-exposure image of the Very Large Telescope (VLT) on Cerro Paranal in Chile's Atacama desert. The striking yellow beam, cutting across the hundreds of star trails, is produced by laser light from the VLT Unit Telescope named Yepun. With this, the telescope can compensate for atmospheric distortion to produce stunningly sharp images. Inside, the calendar is packed with amazing images of the cosmos as well as photographs of ESO's telescopes against the striking Chilean landscapes.
The month of October, for example, sees an artist's impression of the forthcoming Extremely Large Telescope that will be the world's largest optical and infrared telescope, set to tackle the biggest scientific questions in cosmology. Other observatories — La Silla in April, and ALMA in June — are each depicted against the background of a beautiful sunset.
Two dramatic stellar nurseries also feature in the calendar; the Prawn Nebula in March, and the Orion Nebula in July. The faraway edge-on spiral galaxy NGC 1055 takes centre stage for September, and our galactic neighbour IC 1613, an irregular dwarf galaxy, features in January. A fantastic artist's impression of a spinning black hole swallowing a star marks the end of the calendar in December.
The calendar now has a new landscape format and has 14 pages, with a cardboard back. It is on sale for 9.99 Euros in the ESOshop, but stock is limited — so don't delay!
Links
View the individual pages of the ESO Calendar 2018 here
Contacts
Richard Hook
ESO Public Information Officer
Garching bei München, Germany
Tel: +49 89 3200 6655
Cell: +49 151 1537 3591
Email: rhook@eso.org