Announcement
ESO Annual Report 2018 Now Available
14 June 2019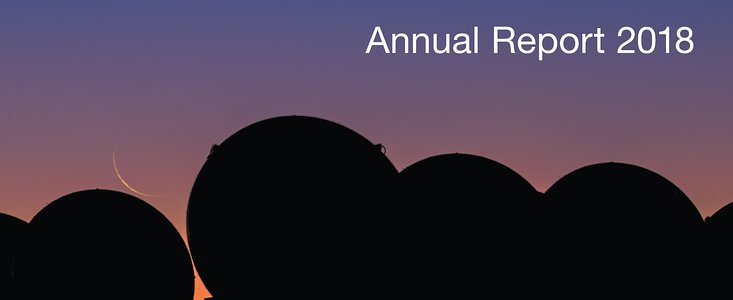 The ESO Annual Report 2018 is now available (PDF). It presents a summary of ESO's many activities throughout the year, from progress on the design, construction and operation of a suite of the world's most advanced ground-based astronomical telescopes to ESO's efforts to promote and organise cooperation in astronomical research.
Readers will discover, among other topics:
Research highlights from ESO facilities, including: imaging planets as they form around their host stars; tracing the chemistry of stars and their environments, probing the dynamics in the environments around supermassive black holes; and star formation in a galaxy only 250 million years after the Big Bang.
A summary of activities at ESO's front-line observatories in Chile.
The latest news from the Atacama Large Millimeter/submillimeter Array (ALMA) and Extremely Large Telescope (ELT).
News about ESO staff and infrastructure — including the opening of the ESO Supernova Planetarium & Visitor Centre.
This product is available to download for free as a PDF and will soon be available to buy in the ESO shop as hard copy.
Links
Contacts
Mariya Lyubenova
Head of ESO Media Relations Team
Garching bei München, Germany
Tel: +49 89 3200 6188
Email: pio@eso.org